Stopping the spread of COVID-19
– Disinfection Technology
The coronavirus Covid-19 (full name "severe acute respiratory syndrome coronavirus 2: SARS-CoV-2") is known to be spread in tiny droplets released from the nose and mouth of an infected person as they cough. A single cough can produce up to 3,000 droplets. These particles can land on other people, clothing and surfaces around them, but some of the smaller particles can remain in the air. There is also some evidence that the virus is also shed for longer in faecal matter, so anyone not washing their hands thoroughly after visiting the toilet could contaminate anything they touch.
The Centers for Disease Control and Prevention (CDC) , the World Health Organization and others health authorities, have emphasised that both washing one's hands and cleaning and disinfecting frequently touched surfaces daily are key in preventing Covid-19's spread.
This discovery has prompted governments worldwide on mass disinfection and cleaning of environmental surfaces.
Resource from BBC

In countries all over the world, teams of workers in protective clothing have been dispatched for sanitization in plazas, parks, public streets, kindergartens, state capital buildings, markets, mosques, airports and essential healthcare areas and facilities.
Dressed in full protective gear in hazmat-suits, workers are spraying low-concentration bleach-and-water mixtures via disinfection fog sprayers.  Trucks filled with low-concentration bleach-and-water solutions also drive through the streets.
Thankfully, the advent of advance technology has increased efficiency of cleaning routines. From guns, drones, robots and smart self-balancing scooters.
In the face of such efforts, some experts refute that sanitizing misters are probably not the most effective way to kill the virus since the coronavirus mainly travels person to person through saliva and mucus droplets and not through tiny particles in the air.
However, fact remains that through cough and sneeze, the viral particles can land on people and surfaces within 3 to 10 feet, infecting and contaminating the area landed on. Scientists aren't sure how long droplets containing the virus can live on surfaces.
According to the World Health Organization, "studies suggest that coronaviruses (including preliminary information on the COVID-19 virus) may persist on surfaces for a few hours or up to several days."
Resource businessinsider
Disinfection is hence still a key preventive measure to stem the spread of the virus. The use of the right disinfectants will effectively eliminate viruses and bacteria microorganism on contaminated surfaces, such as clothing and hair.
In Singapore, Tech also comes in play to support disinfection efforts in a bid to save on manual costs.
"Researchers from Nanyang Technological University, Singapore (NTU Singapore) have developed a semi-autonomous robot that can disinfect large surfaces quickly. The researchers are planning to have public trials to support Singapore's fight against COVID-19."
Resource eurekalert  
A disinfection station is another advanced disinfection measure innovated and utilized at this time.
"Hong Kong International Airport is testing a full-body disinfection channel facility dubbed CLeanTech in live operations. It is a fully enclosed facility that offers complete disinfection and sanitising procedures to users within 40 seconds."
Hong Kong International Airport said it will consider implementing it as a long-term disinfection measure after the completion of the trial in May.
Resource HK airport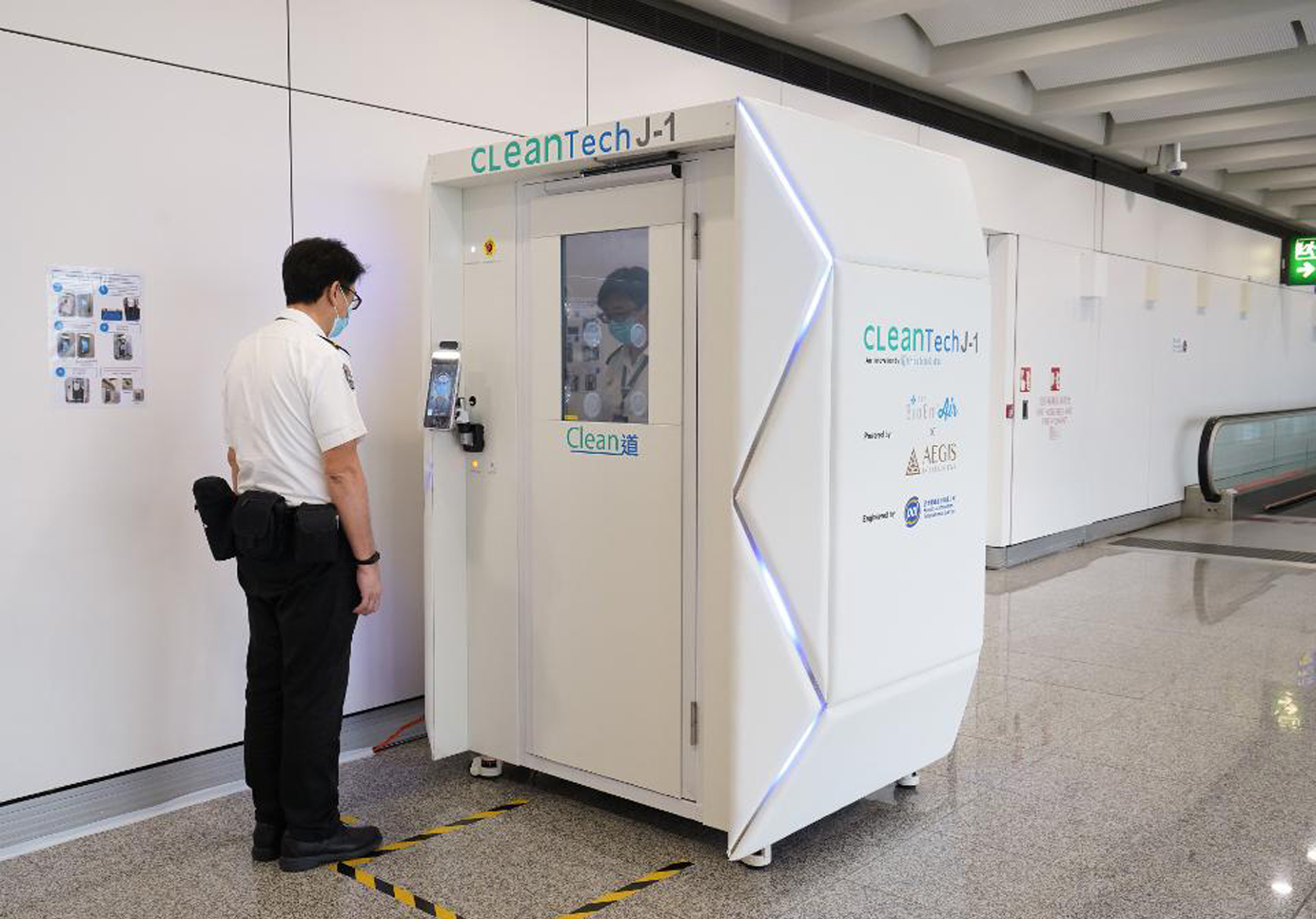 In a southwestern Chinese city of Chongqing, China, a company built a disinfection tunnel to spray employees at an industrial complex with disinfectant before they begin work. The entire equipment is a huge, bulky circular tunnel like contraption of heavy metal, and looks nothing short of a sci-fi wormhole portal traveling machine in some epic space odyssey drama.
Resource reuters
This is not the only version of a disinfection chamber.
Many other variants of the system has been produced. Around the world, countries are taking a leaf from the disinfection technology and making their own versions. For example, from countries in Asia, like Indonesia, India, Vietnam, to the Middle East, United Arab Emirates (UAE), and even Europe, Switzerland and United Kingdom.
Disinfection Technology from Switzerland.


A Disinfection tunnel framework from United Kingdom.
Global statistics have proven that mass sanitization is one of the prudent  methods to tackle Covid-19. And as lockdown measures are not indefinite and close contact and interaction between people are not completely unavoidable, the disinfection chamber is the necessary system to tackle the spread of viruses and contaminants.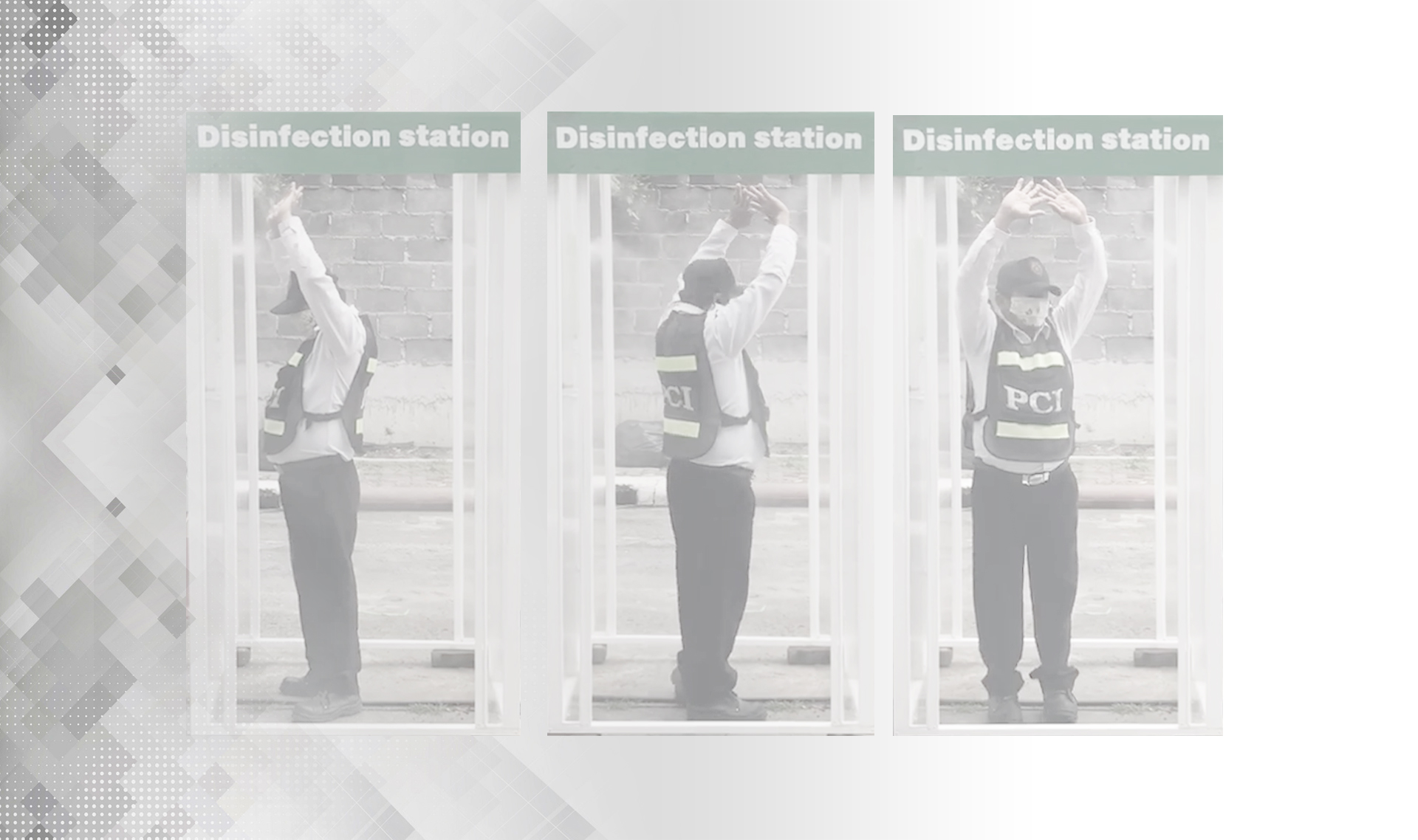 Kick started overseas, Modoleen Disinfection Station have successfully been placed at various venues for fast, efficient disinfection. Experts have already predicted Covid-19 will likely continue all through the rest of this 2020 year. Hence, the disinfection technology is the go-to solution during these trying times.
 360° Full Body Disinfection

Safety and Wellness for Public

Fast. Safe. Efficient.
Modoleen uses a Disinfection approved by the NEA (National Environmentally Agency).
Safe and quality assured, air and surface fast acting and broad spectrum water based disinfectant cleanses most contaminants, bacteria, and viruses that may have clung on to the surface of an individual's clothes and body throughout the day.
Visit us here for more info.
Singapore disinfection station supplier. Disinfection chamber technology. Safe, NEA approved and quality assured.